[ HOME ]


Profile
---
WILF FLINT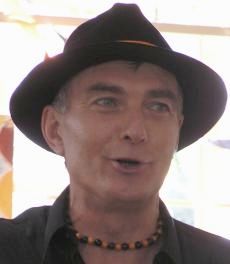 Born and raised in Dubbo on Waradjuri land, I pay my respects to the first Australians. And I weep for genocidal atrocities committed against blackfellas by invasive, white supremacists – by representatives of governments, their agencies and other colonisers since 1778 when the first of my father's mob stepped ashore as a convict at Botany Bay. Indeed, I hope to high heaven that seven generations of my forebears in Australia were supporters of indigenous peoples, inappropriately labelled Aborigines by whitefellas who did their worst to quell blackfellas' claims to identify as representatives of Nations, for example, in Brisbane, the Yuggera Nation and Turrbul Nation – south and north of the Brisbane River. With massacre, slaughter, poisoning, rape to induce whiteness of skin, theft of identity, language and culture, systemic inferiority labelling, removal from homelands, separation from families and clan groups … and other genocidal and racist practices, many indigenous brothers and sisters struggle to stake their claim on Nationhood. I weep.
I grew up with black 'n' white kids, with bull-roarers 'n' bravado, with red dust on an upright piano, a centrepiece for singalongs that housed the keyboard over which I slaved through early years with Sr Bonaventure's ruler raised over reddened knuckles. Learning violin was dangerous too – in a lively lesson I poked teacher Terry in the eye with my bow. His response turned me away from fiddling. Musical drama was an early way of life – just before my voice broke, I played Pirate King in Pirates of Penzance, and then just after it broke, Thisbe in Midsummer Night's Dream. From formative years, my greatest admiration has been for performers who carry on regardless. Top marks to emerging artists!
I'm deeply indebted to my singing father who nurtured my yearning for music. At 88, he still sings in Dubbo nursing homes to cheer up the oldies. Our family's favourites in my youth were bagpipes 'n' drums and Kenneth McKellar's mellifluous voice. I continue to relish Scottish sounds – love their fiddlers! I'm super-grateful to Ol' Butterballs, our ancient fourth class teacher. Mr Butterworth played tenor sax and taught us folk songs from many cultures.
And in fourth class Billy disappeared. Billy was a black kid and a great mate – we conquered Dubbo by running. The Principal told us he'd gone walkabout, but many years later we learned that Billy had been taken from his home by NSW Police under an order from The Aborigines Welfare Board – his love of life was taken from him. Today, he doesn't want to know his former white mates. This great loss for me cemented a desire to do what I could for blackfellas … and … to promote whitefellas' recognition of the horrors committed by whitefellas against blackfellas over 229 years of white occupancy in their country of 60,000 years, and to secure whitefellas' recognition of the horrors committed by agriculture and industry on blackfellas' land.
Teenage musical tastes were (Aus) Masters Apprentices, Thorpie; Easybeats, Jeff St John, Chain, Spectrum, Dingoes, and for better or not, I grew up with the blokes in The Reels who helped maintain my zest for live sounds; (Brit) Fab Four, Stones, Kinks, Cream, Who, Small Faces, Yardbirds; (Seppo) Presley, Holly, Monkees, Dylan, Hendrix, McKenzie, Janis Joplin, Motown, Canned Heat … Ozarks, Cate Brothers, Aces, CSNYoung and Steely Dan. With enormous love of music of many genres, I buzz most on bluegrass, Cajun and TexMex sounds.
After school in the early 70s, I played various roles in performing arts in Armidale, won the graduation drama prize in 74 before embarking on a working life in many performance roles of one guise or other. Artistic credits are wanting until the 90s when I came across Songlines – reconciliation choristers – who reunited me with folk and community performance … and a cause dear to my heart, the rights of indigenous folk.
Songlines is a strong mob of like-spirited Brisbane singers who belt out great songs of reconciliation, social justice, peace and envirosanity, who rehearse Tuesday nights, Gabba, with a gig every fortnight or so. Interestingly many singers have not sung before joining. Don't be shy – join Songlines for a tremendous experience! Whilst you may imagine funny business amongst a bunch of lovely people who sing together each week, you can't imagine the half of it! I joined four years after they formed, just before WFF 2000, when we sang up a storm on the bent bridge following a fiasco in the Big Top. I was chuffed to be chair of Songlines committee for a few years when the choir incorporated and united with Sam Watson and Saba Abraham, local heroes for indigenous and marginalised peoples and lands, as Patrons of Songlines Choir Inc. It's a beautiful thing to sing great songs with many voices. For six years, I had the biggest satisfaction to be singing with musical directors Mark Shortis, Cavel McIntyre, Sharmilã Nezovic and Janelle Skinner – the loving and current incumbent, and squads of other motivated people, some of whom could sing! Every encouragement always given to those who struggled! And what a great way to find out if you can sing or not – join a choir like Songlines that doesn't audition!
Always into folk, always dig the company of folkies, country shows and amateur theatre. I identify particularly with the folk traditions of truthfulness and protest – singin' it like it is!
Isn't it a great pleasure to look forward to the next gig?! And to head to different folk events? A monster kick for me is to volunteer – at last WFF 'n' Dreaming, I was proud to be an S-Bend Warrior after a few years of mc'ing - gotta get hands dirty one way or another. And isn't it a credit to the organisers that live is guaranteed? – at least weekly with the likes of MAD Ass on Thursday nights at the Muddy Farmer, Annerley. Yay!
A big motivation of mine is the work of Rudolph Steiner – well worth the effort. Steiner's a complete and utter hero – anthroposophy 'n' all.
Wilf Flint