[ HOME ]


Profile
---
CHRIS & JOAN WRIGHT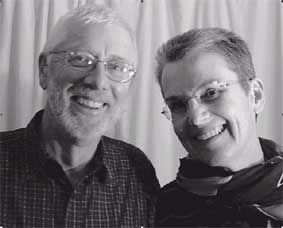 Chris writes: Born in London as a baby boomer in 1947, I migrated by ship with my parents and sister to Australia in 1950. No recollection of the journey except a pre-verbal excitement in response to big ships, gangplanks and the smell of saltwater mixed with diesel fumes! Settling in Pittsworth (southwest of Toowoomba in Queensland) the family listened almost exclusively to ABC radio and didn't possess a record player or records until I caught the 'radio bug' as a teenager in 1963 and built an amplifier in response to falling madly in love at first contact with Joan Baez. By then we had moved firstly to Brisbane (Wynnum & Mitchelton), and on to Mackay, N Qld.
My folk awakening came one hot, humid Mackay afternoon when, having a semi-valid excuse to skip sport, I found myself in a music appreciation class. Teacher, Mr. Redmond, after rabbiting on about the influence of movement patterns of jellyfish on the rhythms found in jazz (wha..?) started carrying on about the revival of folk music as popular culture. Well, that was beginning to turn this young teenager right off - my concept of folk culture was limited to Waltzing Matilda or Nonny-No songs and having to skip around a stinking hot bitumen school parade ground in the blazing sun with GIRLS!
Then it happened. Mr. Redmond turned out the lights and placed stylus upon record - a pure female voice accompanied by simple fingerstyle guitar and Plasir d'Amour... I was transported to another realm. Wow! Zing!
Peering intently at the Joan Baez Vol.2 album cover after class, I fell wonderfully, madly in love. I literally ran to Boxalls Radio shop in town and ordered a copy of the album. No money, no record player and they had never heard of Joan Baez or Vanguard Records. Well, they sourced the album and by the time it arrived a month or so later, I had found an old turntable for three pounds (ripped-off!) and was helped to build a simple valve amplifier, accompanied by a couple of rather crappy speakers which I screwed into not-so-well built boxes.
For me it was a seminal time - my entry to both the Folk Revival and to electronics and sound as lifelong interests. The discovery also of Bob Dylan, Donovan and the protest movement was quite weird in conservative 1960s Mackay, so it was with delight that I was introduced to the Folk Centre some three years later upon my return to Brisbane. I was propelled into the Brisbane folk scene by a group of new friends that included Brookfield based Franciscan Friars, Bro. Rodney, Bro. Norman and Bro. William (Songs of a Sinner) - always sure to turn a head when they arrived in full mediaeval habit with hoods and three-knotted rope girdles!
The Folk Centre opened a world beyond popular and classical music. The folk tradition in all its fantastic variety revealed social conditions and struggles throughout history - the sadness, the joys, and the driving forces for change. For the first time I experienced real people sharing real music - not just performing for profit and fame. I was Home - thank you Stan and Kathy Arthur! An introduction to folk festivals in Adelaide ('71) and Canberra ('72) opened up yet another dimension to my folk experience.
Then in 1972 I met Joan Froud in a bush-walking club and of course promptly introduced her to the Folk Centre and the Barley Mow Folk Club. We married later that year, travelled to the National in Melbourne at Easter '73, and were actively involved in the Moreton Bay Festival and the Brisbane National ('74) as QFF members and sometime sound recordists. Always seemed to have a car full of PA gear for some reason!
Joan writes: I was born in Brisbane about the time Chris landed in Australia and our paths were destined to cross twenty-one years later!
While Chris moved around the state I stayed in the same house, same street, same suburb. I enjoyed a stereotypical fifties lifestyle with a dad, a mum, a sister, a brother, a cat, a budgie and a grandpa too. Grandpa wasn't quite so typical though, as he had toured the world as a member of the Sheffield Choir in the early part of the century. My other grandfather also had a love of music, broadened by his experiences as a seaman on sailing ships at the turn of the twentieth century. This might explain my innate joy of singing and my desire to sing with others too.
My parents both had a love of classical music and their record collection extended to include soundtracks of musicals together with popular music of the day including The Seekers, Julie Felix, Lionel Long, Nana Mouskouri and a group called The Settlers who sang songs of the Snowy Mountains. This music provided the background for many happy hours of shared family activity. In the sixties I enjoyed the pop sounds from England (including The Rolling Stones!) and the folk revival in America so that during my time at teachers' college I was able to learn the recorder and guitar as accompanying instruments to the singing of gospel and traditional folk.
After marrying in 1972, family life and childrearing seemed to take over, and the 1980s became rather a blur with the arrival of four children David, Jenny & Libby (twins) and Rebecca from 1975 onwards. We gradually lost touch with the Brisbane folk scene.
Then, one bright and sunny day in 1989 we discovered that there was to be a National Folk Festival in Maleny ... Wow! Could we possibly attend? We put the idea to the kids. "A hippy folk festival in a Kombi van? No way!" was the reply. To put this in context, we had lived as a family in a conservative Christian community from 1976 to 1988, so the children weren't quite prepared for a parental flip into our (as they saw it) slightly questionable past.
For the first time in fourteen years we parked our offspring with family and friends while we went in search of memories. For some reason we found ourselves in Performers' Camping with many lovely people and had an absolute ball. We had returned to the Folk & Festival family!
When we shared our wondrous tales of music, culture, food and fire events upon our return, the children realised just what they had missed - especially when, back at school, they found that friends had been there too. Maybe the idea of folk festivals wasn't so bad after all and they asked to try Maleny for just one day the following year.
So, in 1990, homeward bound, despite raging headaches from sensory stimulation and information overload, the children agreed that their first folk festival had been an experience they certainly wanted to repeat. "Can we come for a whole season next year?" they cried. "Instead of Christmas Presents?" we asked. "Definitely!!" And so it started. We haven't missed a Maleny or Woodford since, and really appreciate the vision and work of Bill Hauritz and the whole Woodford fraternity. Youngest daughter Rebecca (only ten at the time of her first Maleny), has since been mentored by members of the beautiful folk tribe and has become a performer in her own right, playing numerous Woodfords together with Nationals and other festivals throughout Australia.
But folk life is more than festivals alone. We are honoured to still be supporters of the wonderful southeast Queensland folk family - mainly as very enthusiastic audience members.
Publications like the Folk Rag through the efforts of June Nichols and the team along with literally hundreds of folkie friends always make us feel most welcome at concerts and gatherings too numerous to mention. Not a week goes by without a veritable smorgasbord of folk-based experiences to be had for the taking.
So to all you wonderful members of the folkie tribe, thank you for being part of the ongoing life journey of the Wright Family!
Chris & Joan Wright